Jerry Jones and his wife Jeannie are both certified Lay Ministers.  They have devoted their lives to serving the Lord through their music ministry, and countless charities.

In 2004, 2005, and 2006 Jerry was awarded "Male Vocalist of the Year" and "Songwriter of the Year" for the Eastern United States by the Country Gospel Music Association, Branson, Missouri. He was also nominated for International Male Vocalist and Songwriter of the year those same three years...going on to achieve the "International Songwriter of the Year Award" for his song "Calvary". Jerry has shared his songs on the television show "Music City Gospel Showcase" out of Nashville, Tennessee, where he was nominated for " Male Vocalist of the Year." He  also appeared on the Gospel Music Television Network in Pigeon Forge, Tennessee, Branson, Missouri's  "God and Country Theatre" numerous times, and Branson Music Theatre. 

Jerry's song "Calvary" entered the US charts in May of 2005 and climbed to #4 on the "European Country Gospel Chart".  He has charted several other songs in the top 40, and has had 2 NUMBER ONE songs, "Read The Word" in 2007, and "Barstools and Church Pews" in January 2009, entering the Singing News Magazine Top 40 Chart as #7. He just finished his 10th CD and has written and recorded 20 of the 23 Gospel songs he has written.  Jerry has definitely been given a special God-Given anointing with his beautiful voice and songwriting ability, and uses it to glorify the Lord and help others come to know the Lord!  This is a very powerful gift to witness!

Jeannie, Jerry's wife of 41years, is the coordinator for their Ministry. She travels with Jerry, giving her testimony of how "God works all things out for good to those who love Him, who are called according to His purpose" (Romans 8:28) Jeannie offers hope to those who are still praying for a loved one and might be feeling discouraged, or someone who has a need. She describes the miraculous way God led her and Jerry to where they are, serving Him with all their hearts.

Jerry Jones Ministries has toured the country leaving blessings behind everywhere they go. His songs are being played all over the world. Don't miss the opportunity to have them at your Church or event!
302-228-4813
jjcntrygspel@aol.com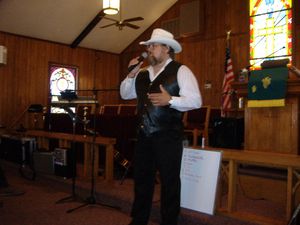 WE WOULD LOVE TO HEAR FROM YOU:
Did we mention that Jerry Jones brings alot of FUN wherever he goes?